Windham County DUI/OUI Lawyer
Defending DUI/OUI Clients in Willimantic & Throughout Eastern Connecticut
Charges for operating under the influence of alcohol or drugs (OUI - frequently referred to as DUI or DWI) carry serious penalties. Even a first-time OUI conviction in Connecticut can result in: up to six months in jail, 48 consecutive hours of which are a mandatory minimum; up to a $1,000 fine; a driver's license suspension; and require you to install an ignition interlock device (IID - essentially a breathalyzer) in any motor vehicle owned or operated by you as a condition of your license restoration.
If you are facing DUI/OUI charges, contact us today. Our Windham County DUI attorney can work with you to help you understand the charges against you and what options are available to you.
In Connecticut, a drunk driving arrest involves two separate but related proceedings:
An administrative per se suspension hearing at the DMV to determine whether your driver's license or privilege to drive in Connecticut should be suspended by the DMV.
A criminal proceeding in superior court to determine if you are guilty of operating under the influence (OUI) and, if so, the penalties to be imposed by the court, including another suspension of your driver's license or right to drive in Connecticut.
In this hostile legal environment, you need an effective Windham County DUI/OUI defense attorney at your side.
What you do after a DUI/OUI arrest can make all the difference in your case. Before you plead guilty and risk losing your freedom, money and driver's license, consult with The Law Office of Jerome Paun to discuss your OUI or motor vehicle charges with an experienced defense lawyer.
OUI Defenses in Connecticut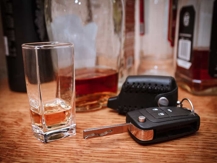 A successful defense against OUI charges is possible.
An OUI case does not hinge on a breathalyzer or blood alcohol content (BAC) test alone. In order to make an OUI arrest, an officer first must have a "probable cause" to believe the driver is under the influence of alcohol or drugs.
Second, police officers are required to follow proper procedures when stopping people and asking them to take field sobriety tests. If an officer fails to follow proper procedure or violates constitutional principles, it may be possible to have the OUI charge dismissed, protecting both your freedom and driver's license.
We will carefully examine the evidence, arrest procedure and results of the blood alcohol content (BAC) tests in your case. Improper police procedure or mistakes in police reports are not uncommon and may help your case.
What we can do for you:
We will challenge questionable evidence from being used against you and may be able to get the charges against you dismissed.
Whether you are a program eligible first-time OUI offender or you are facing a potential second, third or subsequent OUI conviction, we will provide you with effective OUI defense representation to minimize negative consequences for you.
We provide effective defense representation to those facing first-time charges and those who have been charged with second, third and subsequent OUI offenses.
What to Do After a DUI/OUI Arrest
You have been pulled over for DUI/OUI. Now what? What should you do to protect your rights?
At The Law Office of Jerome Paun, we defend the rights and freedom of people accused of OUI and other motor vehicle-related offenses. We use almost 40 years of experience to fight for the best possible results in our clients' OUI or motor vehicle offense cases. Please read the tips below about what to do after a DUI arrest. Then, contact our law office to speak with an experienced Connecticut OUI lawyer.
You Have the Right to Remain Silent. Use It!
You have the RIGHT TO REMAIN SILENT. USE IT! The police are not kidding when they tell you, "Anything you say can and will be used against you." They mean it!
If the police have enough evidence to arrest you, they will; whether you talk to them or not. In most cases, there is nothing you could possibly say to the police that would stop them from arresting you. Frequently, if the police do not have enough evidence to arrest you, they will want to talk with you to see if something you might say will give them the evidence they need.
Furthermore, if you talk to the police and they decide that you are not fully truthful, they could charge you with the crime of making a false statement. Usually, the best way to protect yourself is to USE YOUR RIGHT TO REMAIN SILENT until you have consulted with and retained a criminal defense lawyer.
Don't Consent to a Search of Your Vehicle!
You have a right to be free from unreasonable searches and seizures. Normally, the police will not have a search warrant to search your motor vehicle when they stop you for OUI or another motor vehicle offense, but they may ask to search it anyway. If you consent to a search, you have given them the right to search your vehicle.
You don't have to consent to a motor vehicle search. If they ask, tell the police you do not consent to their search request. If they really want to search your vehicle, they should get a search warrant.
Contact an Experienced OUI Defense Attorney in Connecticut
The attorney you choose to defend you from your OUI charges and DMV license suspension can make a difference. Having an experienced Connecticut OUI lawyer on your side who understands the defenses available to individuals charged with drunk driving is vital to your freedom and your future.
For a free consultation with an experienced Windham County drunk driving attorney, contact The Law Office of Jerome Paun at (860) 455-4202 today. We represent clients facing OUI and other motor vehicle charges throughout Eastern Connecticut.